Masterpieces of the History of Photography
This on-line Alumni College course is a survey of the development of photography as a technical and artistic medium of visual expression. We will examine individual photographers and trace the major issues that influenced their work. We will also discuss various artistic styles as they evolved and the technical developments that made them possible. Finally, we will place photography into a larger context of nineteenth and twentieth-century artistic expression. Whenever possible, we will use examples from the Middlebury College Museum of Art to enhance our discussion.
The course will last for four weeks, and will include assigned readings from Robert Hirsch's book, Seizing the Light, as well as visits to on-line virtual museum exhibitions and other on-line resources. As a class we will discuss selected topics by using the Agora conferencing system.
Class starts Jan 28, 2001 and runs for four weeks.
There is no charge for the course. Registration for this course is limited to 40 students. This course has now closed.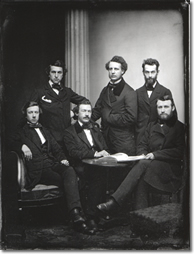 Albert Sands Southworth
Josiah Johnson Hawes
Six Gentlemen, c. 1850
Daguerreotype
Collection of Middlebury College Museum of Art
Purchase with funds provided by the Christian A. Johnson Memorial Fund
1999.001