---
Bulgakov in Moscow
| | |
| --- | --- |
| | In 1921, the Civil War over, Bulgakov moved to Moscow and began to make his living as a writer. In Moscow he divorced his first wife to marry Liubov' Belozerskaia in 1924. |
He wrote both humorous sketches and novels, and his novel White Guard (1924) was one of the first serious works to describe the Civil War (the book is a novelized version of Bulgakov's own experiences in wartime Kiev). Bulgakov based his play, Days of the Turbins, on White Guard, and it premiered at the Moscow Art Theater in 1926. Supposedly it was one of Stalin's favorite plays. Bulgakov wrote several other plays, becoming the preeminent Russian playwright of his day, but the plays also earned him a hostile reception in the Soviet press. As the Soviet Union became more ideologically rigid in the late 20s, Bulgakov's ambivalent works came under attack more and more often, and all his plays were banned in 1929.

Bulgakov, left with no way to make a living, did what many writers in a similar position did: he wrote a letter to the government. In reply he received a telephone call from Stalin, who offered to appoint him to the Moscow Art Theater. This was the period when Bulgakov began work on the Master and Margarita.
| | |
| --- | --- |
| | Around this time he met and began courting Elena Shilovskaia, who may have become in part the model for Margarita. Bulgakov married Elena in 1932. |
Increasingly, Bulgakov worked on adaptations and historical fiction, which can be less ideologically dangerous than original works. For example, he adapted Gogol's Dead Souls and Cervantes' Don Quixote for the Russian stage. He wrote a biography of the French playwright Moliere. Bulgakov's play about Moliere, The Cabal of Hypocrites, deals with the position of a writer in an autocratic dictatorship. Rehearsed at the Moscow Art Theater for 4 years, the play was banned after only 7 performances. Another play, Pushkin (The Last Days), treats the same theme and suffered the same fate. Again Bulgakov was in despair, and this time he moved to the Bolshoi Opera as a librettist.
Bulgakov hoped to regain favor with the government by writing a play in honor of Stalin's 60th Jubilee. The play, Batum, was set in the Caucasus and portrayed Stalin's early years as an activist. Bulgakov was on his way by train to begin rehearsals in Batum, when he was called back by telegram to Moscow. The play was banned. This final blow may have contributed to Bulgakov's ill health. He died in March of 1940.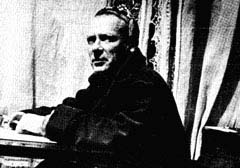 Bulgakov in his cap