---
Dying Fertility Gods
Many ancient Near Eastern religions have gods born of virgins who die and are resurrected annually. Richard Shand has a page on Egyptian and Pagan themes in Christian Tradition.
Osiris [Oziris]
| | |
| --- | --- |
| | Egyptian god who represented the dead Pharaoh. He was the god of dying and resurrecting nature, the judge of the dead, and was represented as a mummy. Product of a virgin birth. |
For more on Osiris see the University of Colorado page.
The official Egyptian tourism page also has Osiris materials.
---
Tammuz [Fammuz]
A Sumerian/Akkadian god of fertility who died and was resurrected. Mentioned in Ezekiel 8:14. The Phoenecians lived in what is today Lebanon. Product of a virgin birth.
More on Tammuz at Richard Shand's page.
---
Marduk
The central god in the Babylonian pantheon, patron of the city, which is today located in Iraq. Marduk was god of air, earth, and fertility.
---
Adonis
| | |
| --- | --- |
| A Phoenecian/Syrian god who was adopted by the Greeks as well. A vegetative resurrecting god. | |
---
Attis
| | |
| --- | --- |
| A Phrygian god adopted by the Greeks. He was tied with a fertility cult through his mother. Product of a virgin birth. | |
---
Mithras [Mitra]
| | |
| --- | --- |
| From Avestan/Old Iranian. A Persian god whose cult flourished through the Roman Empire from about 50 AD. He was on the side of Ahuramazda in the Persian pantheon against Ahriman. Product of a virgin birth. | |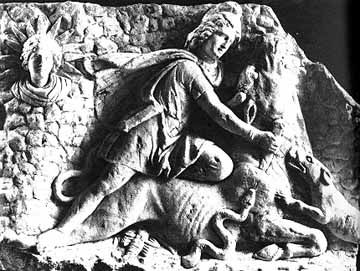 2nd Century limestone relief, Rome (Cincinnati Art Museum)
David Ulansey's Cosmic Mysteries of Mithras