Web
Animation

Timeline
Frames
Layers
Onion Skin
Tweening
Paths
Transitions
Banner

Layers
Different objects in an animation are usually placed on separate layers, each of which can be animated individually. Layers can be hidden, moved and locked (for an introduction to layers in image editing see: Layering). Objects can be created with Draw and Paint tools or can be imported.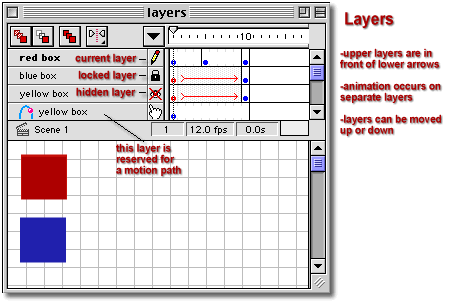 Tutorial

1. Open timeline.fla again and choose Insert > Layer to create a new layer. Select frame 1 of the layer.

2. Use the Draw and Paint tools to create a new object. Options for the tools are displayed at the bottom end of the palette. Since all objects are vector-based, they remain independent and can be resized and altered in various ways. Choose Modify > Group to make various parts of an object or various objects one object. See Flash help for more info on these tools.
3. Add keyframes to your new layer and animate your new object.