Web
Animation

Timeline
Frames
Layers
Onion Skin
Tweening
Paths
Transitions
Banner

Transitions
Transitions are the change from one scene to another, usually achieved by fading out current objects and fading in new ones. Fades are simply the reduction of alpha channel to 0 %.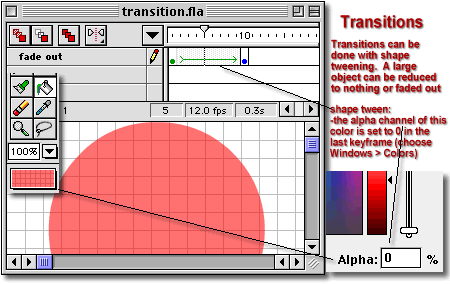 Tutorial

1. Open transition.fla from the tutorial images you downloaded (see: Download). Try to fade the red circle back in by doing the following:

a. Move to frame 1 and sample the red using the dropper tool
b. Create a keyframe at frame 20.


c. Select the transparent red circle (it is there, you just can't see it, click blindly and you will find it)
d. Use the paint bucket to paint it red.
e. Double click on any frame between 10 and 15.
f. Choose Tweening > Shape

Play your movie to see the fade in.