Web
Animation

Timeline
Frames
Layers
Onion Skin
Tweening
Paths
Transitions
Banner

Timeline
Most animation programs have a timeline which displays the frames of an animation and has a pointer or playback head which indicates the current frame. As well, a timeline displays keyframes. These are frames in which a change has occurred, such as a new position, size or color.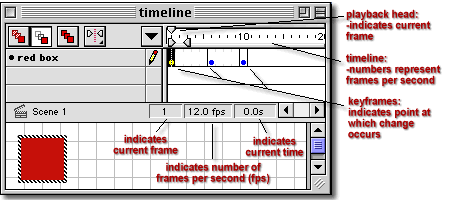 Tutorial

1. Open timeline.fla from the tutorial images you downloaded (see:

Download

)

2. Click the play button on the controller (choose Window > Controller if it is not visible). Rewind and play again. Click, hold and drag the playback head to move through the frames.

3. Click on frame number 15 of the first line beneath the timeline, then choose Insert > Keyframe

4. Click on the red box and move it somewhere. Now rewind the animation (or move the playback head to frame 1) and play it again, Sam.

5. Double-click the fps indicator and change the fps to a higher or lower rate. Test the results.