Know Your Food, Know Your Farmer
Highlighting the Connections Between
Middlebury College & Local Food Providers
Black River Produce
Located in: Proctorsville, Vermont
Supplies Middlebury College with: seafood and fresh produce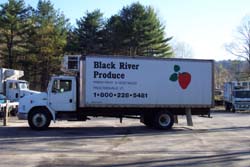 Black River Produce retail store and distribution center in Proctersville, VT
Since 1978, Black River Produce (BRP) has been providing Vermont and New England chefs and customers the finest fresh fruit, vegetables, seafood, and floral products. The business started 25 years ago delivering fresh, local produce to local restaurants in the Proctorsville area. Since then, BRP has slowly grown into a niche market that distributes throughout Vermont and into parts of western New Hampshire, northern Massachusetts, and eastern New York.
In an interview with Snow Country Magazine, co-owner Steve Birge said, "We work with smalltime local growers. We find out what customers want, interact with the community. The retail part of our business, like a country store, carries local produce."
Black River Produce is comprised of a central warehouse, trucking center, and retail store. It has 28 refrigerated trucks that deliver at least 6 days a week. Some drivers start their routes as early as 2 a.m. in order to drop off their day's produce by the start of the business day. CJ, the driver that comes to Middlebury, has been trucking for BRP for over 15 years.
Mark Curran, the currant owner of Black River Produce, is part of the Vermont Fresh Network that links local farms to local chefs. He believes BRP plays an important role for Vermont agriculture by being able to purchase excess produce (caused by unforeseen events such as weather) that would otherwise go to waste and distribute it to broader markets.
Black River Produce is committed to providing its customers with the highest quality foods. They are committed to distributing local foods such as Grafton Cheese, Cold Valley apples, and VT Butter and Cheese. However, especially in the non-growing season, they rely on buying produce from markets in California and Boston. BRP buys all of their fish and seafood from the Boston market. In turn, Middlebury College gets all of its fish and seafood from Black River Produce.