Know Your Food, Know Your Farmer
Highlighting the Connections Between
Middlebury College & Local Food Providers
What Does It Mean to be a Family Farm?
When we met with the James family of Monument Farms Dairy in Weybridge, it was clear right away that we were in the presence of family. On a family farm, there is the sense that there is a vested interest in the future of the farm, to sustain not just a business but a lifestyle. A family farm is both a way to make a living and a way to live. Like the Stone Family of Stonewood Turkey Farm in Orwell, the farm supports three or four households.
Monument Farms Dairy holds the unique position of being a producer-handler which means, essentially, that it is all in the family. Peter is in charge of the milking. His brother Bob takes care of the distribution. Their cousin John oversees the processing plant. Their grandfather, Richard, began selling milk to the College in 1950. What started with Richard as a small dairy, with home delivery routes, has now grown to a 700-cow operation, producing over 3000 gallons of milk per day.
Of this, each day, Middlebury College purchases 60 five-gallon containers. Fresh from the cow and through the pasteurizing process, the milk we drink in our dining halls is often only several hours to a day old. The rest of the Monument Farms market is located in the Champlain Valley, in local schools, and smaller mom-and-pop type stores.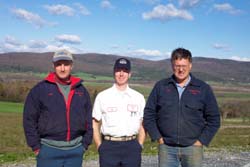 Left to right: Bob, John, and Peter James.
HOME