Know Your Food, Know Your Farmer
Highlighting the Connections Between
Middlebury College & Local Food Providers
Hillsboro Sugarworks
Located in: Starksboro, Vermont
Supplies Middlebury College with: Grade A Maple Syrup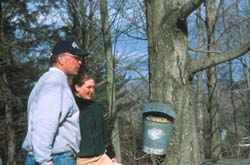 Dave and Sarah by a tapped maple
All of the syrup served in Middlebury College's dining halls comes from the Hillsboro Sugarworks, which has been supplying the college for twelve years. As one of the region's larger maple syrup operations, Hillsboro Sugarworks operates 86 acres. However, it is not big enough to compete with the larger-scale Canadian sugaring operations. Thus, it depends on local markets including Middlebury College and the Natural Foods Co-op. The college buys up to 80 gallons per month from Hillsboro Sugarworks.
David Folino taught himself to sugar, with the help of some neighbors, twenty years ago, and his operation has grown immensely since then. He enjoys sugaring and says that although it's hard work, he appreciates the chance to get outside and work the land, and views sugaring as a nice beginning of the transition to spring.
Thirty miles of plastic tubing, aided by gravity and a vacuum system, carry the sap from the 4,000 tapped maples down the hill to the sugar house.
Forty to 60 gallons of sap must be boiled in an evaporator to produce one gallon of maple syrup. In order to conserve fuel, Dave removes 80% of the sap's original water content before boiling.
The sap's consistency and color fluctuates with seasonal changes in temperature. The process requires warm days and cold nights in order for the sap to run. Vermont hosts the perfect climate for sugaring, but global warming poses a growing threat to this important industry.