Know Your Food, Know Your Farmer
Highlighting the Connections Between
Middlebury College & Local Food Providers
Maple Meadow Farm
Located in: Salisbury, Vermont
Supplies Middlebury College with: fresh eggs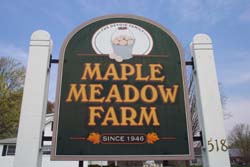 Maple Meadow is a family farm, owned and operated by George and Jackie Devoid. It supports three generations of their family and 12 total workers. In 1946 George's father started the farm with 400 chickens and made deliveries by bike in the Lake Dunmore area.
The Devoids pride themselves on being small and providing high quality service and products to local consumers. They have 65,000 chickens laying in their barns, and while that might sound like a lot, their operation is tiny by industry standards. This allows them to stay family run and maintain local connections both to their sources of feed and to their niche markets. Also, complementing their egg production, the family has a side maple sugar operation and business.
For over 30 years, Maple Meadow farm has supplied the College with whole eggs. Middlebury Dining Services purchases approximately 340 dozen eggs each week from Maple Meadow Farm.
OTHER LOCAL FARMS
HOME