Know Your Food, Know Your Farmer
Highlighting the Connections Between
Middlebury College & Local Food Providers
Monument Farms Dairy
Located in: Weybridge, Vermont
Supplies Middlebury College with: fluid milk and Stonyfield yogurt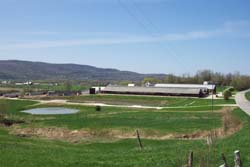 The James' Farm on James Road
Monument Farms Dairy has been run by the James family since its beginning in the early 1900's. Today, brothers Peter and Bob James and their cousin Jon Rooney operate the dairy, with help and support from many other family members. Peter, Bob, and Jon all hope to eventually pass the dairy on to their children, but it's hard to say at this point whether the next generation will want this duty. They say that with rapid changes in agriculture, it's getting more difficult to keep kids on the farm.
Monument Farms Dairy is a processor-handler. That is, they milk the cows and process and package the milk on-site. Milk is packaged within several hours of being processed.
There are 700 cows at Monument Farms, about 350 of which are in milking production at a time. Each cow is generally milked for six to seven years and produces an average of 72 pounds of milk per day. 85% of their feed is grown on-site.
In 1930, Richard James started Monument Farms Dairy, beginning with just a home delivery route. Today, Richard's grandchildren run the dairy. The dairy has grown to a facility that employs 35 local people and milks 370 cows, producing 3000 gallons of milk a day. The dairy uses no rBST or rBGH. As Jon Rooney says, "We like to package as pure a product as possible."
The James family keeps their market local, extending no farther than Burlington. They sell mostly in "mom and pop stores" rather than supermarkets. Jon Rooney remarks, "Every dollar you spend has an impact. Why not make that impact local?"