Know Your Food, Know Your Farmer
Highlighting the Connections Between
Middlebury College & Local Food Providers
What Makes the Distributor So Important?
While Middlebury College communicates directly with Lewis Creek, timing planting schedules and dining needs, Burlington Food Service provides the link through distribution.
Often unseen, arriving on campus while most of us are still sleeping, Burlington Food Service is the College's primary food provider, delivering more than 80% of the food we eat in the dining hall. The decision to go with Burlington Food Service defines the College's commitment to staying local, when it is often easier to forfeit choice to an all-inclusive service.
While Burlington Food Service is a state of the art and growing business, the same theme of family and place marks the distribution process. Burlington Food Service has been in the Cooper Family since 1893 and employs 103 Vermonters. Their relatively small size and scale allows the College to have a customized relationship with their service provider.
When Middlebury College put out a bid for a service provider, Burlington Food Service was the only one that was able to work with Middlebury's request to purchase some of the food from local farms. While Burlington food service relies on many resources, near and far, to satisfy Middlebury's demand, at the same time they allow room for the local market to play a role in the Middlebury dining program.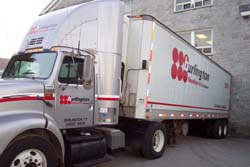 Burlington Foodservice truck at Middlebury's Procter Hall