Know Your Food, Know Your Farmer
Highlighting the Connections Between
Middlebury College & Local Food Providers
Middlebury Dining Services' Food Purchasing Network
Middlebury Dining Services has developed working relationships with roughly 30 local vendors. However, the relationship between the producer (farms) and the consumer (Middlebury College) is not exclusive. Only a rough 10% of foods purchased are locally grown in Vermont.
This is a schematic of where our local foods come from.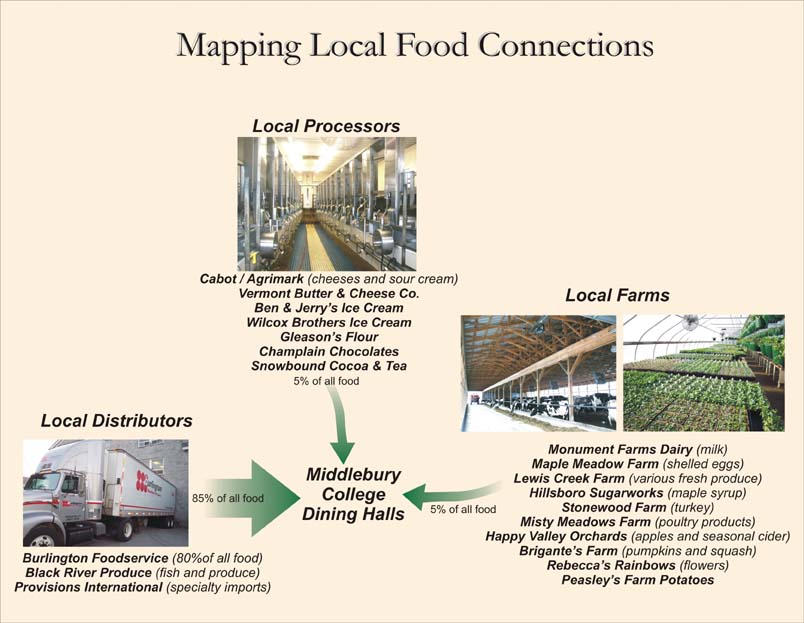 Five percent of local food comes directly from local farms. The other 5 % comes from local processors. A total of 85% of our food comes from local distributors. Black River Produce supplies 5%, and Burlington Foodservice the remaining 80%. It is important to point out that even though Burlington Foodservice relies on some local markets, most of its food comes from out of state. Middining considers Burlington Foodservice a local vendor because they are located in Burlington, VT. As you'll notice, these numbers don't add up to 100%. That's because the remaining 5 percent comes from mainstream distributor Sysco.
HOME