Know Your Food, Know Your Farmer
Highlighting the Connections Between
Middlebury College & Local Food Providers
What Does Commitment to Sustainable Agriculture Mean?
On the quiet main street of Starksboro, Vermont right across from the post office is Lewis Creek Farm, owned and operated by Hank and Cecilia Bissell since 1981. Lewis Creek marks this fertile valley and the 150 acres that extend up into the wooded hillside.
This small farm and the greenhouse provide over 50 varieties of fresh veggies, annual flowers, perennials, herbs, egg, and lamb. Situated as it is on Main Street and in this valley, it is both a commitment to the land and people that defines the Bissell's role in the community. At Lewis Creek Farm, attention to the land is realized through practice.
Though Lewis Creek is not certified organic, many of their methods are. They rotate crops, use integrated pest management strategies, and green manure crop for soil fertility.
This is a new way to look at organic agriculture, not through state certifications but through the frame of small farms. This is true also of Happy Valley Orchard in Middlebury, where small scale, minimal inputs, connection to place, and responsibility to family and neighbors, determine farming practice. Accountability to neighbors more than anything else marks the commitment to sustainable agriculture in this process.
At Lewis Creek, last year's mission statement still hangs in their roadside stand. The final line reads: "Enjoy, and thanks for supporting local agriculture." Through this stand, and as part of the Vermont Fresh Network, delivering to local restaurants and stores, Lewis Creek goods become available to the community. Lewis Creek also relies on Vermont-wide distributors, like Burlington Food Service, which brings their produce to Middlebury College.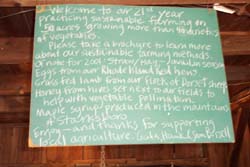 Lewis Creek chalkboard